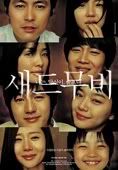 Date Released : 20 Oktober 2005
Quality :
DVDRip
Info :
imdb.com/title/tt0475711
Running time : 108 mins
Genre : Romance | Drama | Comedy
Staring : Cha Tae-hyun, Yeo Jin-gu, Jung Woo-sung, Kim Seung- cheol, Lee Ki-woo, Im Su-jeong, Shin Min-a, Son Tae-yeong, Yum Jung-ah

Download File : Indowebster [700MB-avi]
Subtitle : Indonesia | English
-----------------------------------------------------------------------------------------------------------------------
SYNOPSIS
The film focuses on the stories about four relationships and their trials, pains, heartaches, and subsequent separations. The plot lines eventually connect in some way, but they remain unrelated for the most part.

The first story tells of a firefighter and his girlfriend named Su-Jung who works in a TV station as a news translator for the mute. She's waiting for him to propose, focused on the rationale that given his dangerous job, she likes the idea of him having to think of her, to hesitate for a while before jumping into danger. He, on the other hand, is waiting for that perfect opportunity, setting and all, before popping the question. The second story is about a deaf girl who works as a costume character in a theme park. There she meets a young artist who she begins to develop feelings for quickly; yet refuses to take off her mask in front of him for quite some time. The third story is of a mother and child. The mother was too busy to spend time with her young son, until an illness confines her to a hospital bed. There the mother and son begin to communicate more and more. Lastly, the story of a boy and girl who have just broken up. The girl's reason being that she needs a more stable guy with a good job. The unemployed ex-boyfriend goes off and finds himself a job helping other couples break up. Hoping that if he earns enough money, he could woo his loved one back.