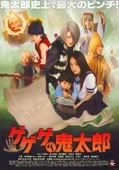 Title : Ge Ge Ge no Kitaro
Year Released : 2007
Info :
imdb.com/title/tt0879812
Produced by : Chihiro Kameyama
Directed by : Motoki Katsuhide
Genre : Fantasy | Live-Action | Drama | Yokai
Starring : Mao Inoue, Yo Oizumi, Eiji Wentz, Kanpei Hazama, Shigeru Muroi

Download File : Indowebster [439MB-flv]
Subtitle : Indonesia | English

Download File : CD 1 | CD 2 [

DVDRip

-avi]
Subtitle : Indonesia | English
-----------------------------------------------------------------------------------------------------------------------
SYNOPSIS
When an unscrupulous yakuza intent on redeveloping land currently occupied by an apartment complex asks his henchman to scare the occupants out, he has no idea that ghouls from the underworld would do his bidding. One after another, residents of the high-rise flee from ghastly apparitions warning them of the consequences of staying. One young boy Kenta, seeing this encroachment of ghosts and believing whole-heartedly in the legend of Kitaro, the good-natured mediary from the spirit world, ventures far into the woods to deliver his request at the foot of an ancient sacred tree.

Meanwhile, demolition work at a neighboring site inadvertently unearths an ancient Shinto Fox shrine resulting in the theft of an ancient (Evil) Stone with supernatural powers. The theft of the Stone not only awakens the slumbering Fox Deities who voraciously seek its return, but sets in motion a monster-filled power grab by those who wish to wield the Stone's power to their own gain.

If left to its fate, this Stone will undoubtedly wreak the same violent havoc it has for centuries. The fact that it subsequently falls into the hands of young Kenta is no small detail. Thus with every malevolent god scouring the living world to find this powerful amulet, Kitaro finds himself in the center of Kenta's unwanted dilemma.